Our History in Shelties: The Blue Merles
*Note: You may click on any underlined blue link or any photograph to go directly to that dog's photo and/or pedigree
The first Sheltie owned by Lakehill Kennels was a pet named Lingard Bonnie of Lakehill, a Ch. Lingard Sealect Bruce daughter, with whom we enjoyed our first experiences in showing and breeding. However, our next important purchase was a blue merle female. I heard of this dog from Billie Andrews (Bilgowan Kennels) who I called from an ad. Billie was co-breeding with Fran May (Kiloren Kennels in Ohio) and I purchased a bitch named Kiloren Moonbeam (Ch. Kiloren Nightstorm O'Alandie X Kiloren Larkspur's Memory). Prior to my purchasing her, Billie, who became a mentor to me, had bred this bitch (called "Sally") to Ch. Kiloren Night Apache and produced a lovely blue merle bitch nicknamed "Misty", who I believe she finished. A litter brother to Sally was Ch. Kiloren Silverstone.
On Billie's advice, Sally was next bred to Ch. Blue Quest of Pocono, himself a three time Best In Show winner. From a litter of four, I kept a tri-colored female and a blue merle male. This male was to become Ch. Lakehill's Conquest ("Timmy") who was owner-handled to all but his final points. He finished his title at age eight with our friend Marion Durholz handling for me, as I was home sick. Thus, Timmy got his Championship as the oldest of any of our Champions to finish. He sired several lovely bitches that come down into my present-day dogs. Timmy was my husband's favorite dog, and loved by everyone who met him. He was very smart, and had ideal temperament.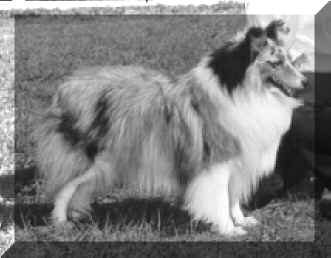 Ch. Lakehill Conquest, 1974, winning Best of Breed
under Judge Nelson Radcliffe. Owner-handled by Ginny
The next breeding of "Sally" was to Ch. Kiloren Night Apache because I wanted to produce my own Misty, who I loved. This litter contained a blue merle bitch who I liked, so I grew her out. She was very slow to mature, didn't have that puppy bloom but was elegant, sweet and had a lovely head. She was "Laurie", later named Ch. Lakehill Portrait In Blue. As most fanciers know, she eventually went to Steve Barger (Mainstay) and Tom Coen (Macdega), who finished her. She was ASSA Best of Opposite Sex in 1973 under Charlotte McGowan, and again Best of Opposite Sex ten years later under Betty Whelan. Laurie produced Ch. Lakehill Macdega Pastel Blue ("Heather") when bred back to Night Apache. She was also an important foundation for Macdega and another daughter was one of Ron Lackey's Cahaba foundation bitches.

My favorite win was way back in 1973, when I flew for the first time to Detroit with a puppy. Heather was entered in a 6-9 month ASSA puppy class, which was not divided by color. She won her class with me handling and won a 5 point major, going Winners Bitch, and Best of Winners. It was her first very FIRST show, (pictured above)!
Our present day blue merles are largely based on Timmy's line, and that of his sister Lakehill's Special Request, combined with the best of early Macdega dogs and my own sable linebreeding through both Crystal and Magic. A prime example and beautiful representative of the blend is Lakehill's Watercolor Sky, pictured below being handled by Paul Capobianco. We are also excited about similar breedings which add Blake to the mix and which resulted in Lakehill Blue Willow, for example. After all these years, it seems that Lakehill is back to producing all colors and still looking forward to every litter far into the future!


CLICK HERE to learn the history and ancestry of our Sable line

CLICK HERE
to Return to our Main Page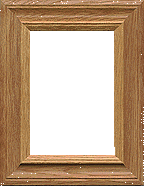 CLICK HERE to view the Gallery of pictures of dogs notable in our pedigrees